Formed: 12 June 2012
The group is part of the overall Myanmar Peace Support Initiative (MPSI) to provide a coordinated donor approach towards the Government of Myanmar.
The group is led by Norway and initially includes Australia, the United Kingdom, the European Union, the United Nations and the World Bank.
A total of nearly US $500 million to support peace-building and other projects was announced on 12 June 2012.
official press release (Burmese): http://www.president-office.gov.mm/briefing-room/daily-news/news697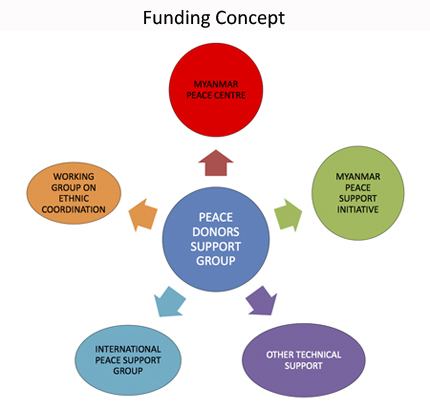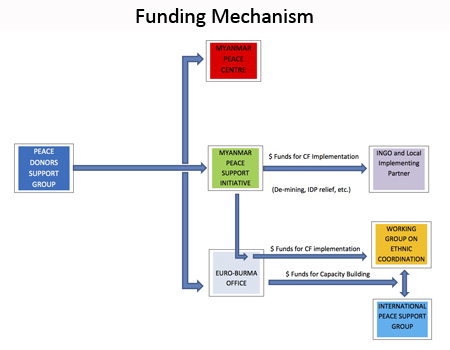 01

United Nations​

is initially contributing US$ 5 million

02

Australia

has committed $5 million to be used in Myanmar's healthcare services and dispatch technicians for clearing land mines.

03

United Kingdom

has pledged a $5 million aid package to "support current ongoing democratic reforms" and another $300 million over the next three years.

04

European Union​

will provide technical assistance and an initial cash aid package of 3 to 4 million euros for clearing landmines and landmine education programs as part of the EU's committed 150 million- euro development programs in 2012-13.

05

The World Bank​

is negotiating with Myanmar now to provide cash and technical assistance in the construction of infrastructure and socio-economic improvement programs as well as paying debts. The country is eligible to borrow $300 million yearly.

On 1 August 2012, it opened a new country office in Yangon, saying it will be submitting plans to its board to offer as much as $85 million in grants for the country to help build roads, schools or other projects. they could begin by October if the bank's board approves.

Others

Norway is planning to provide via EBO (6 months to end 2012):
- 375,000 euros to ethnic groups for liaison offices,
- 50,000 euro for WGEC activities - meeting, workshops, consultations and
- 25,000 euro for IPSG-type activities. This is available to EBO or any IPSG member.

Finland provided EBO (6 months to end 2012):​
- 50,000 euro for WGEC activities and
- 100,000 euro for IPSG activities - training, workshops, consultations exposure trips, etc.