Kachin Locals Re-Affirm Call to Permanently Halt Myitsone Dam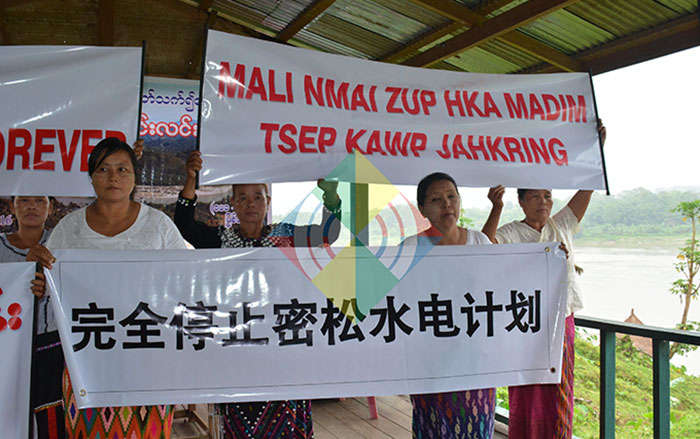 We have always tried to opposed the Myitsone dam project,' a civil society leader says in response to a Chinese statement suggesting local acceptance.
Kachin communities released a statement late last month affirming their continued opposition to the Myitsone hydro-power dam, and called out China for suggesting that there was local acceptance of the project.
Lu Ra, who works for the Kachin social development organization Munchying Rawtjat, told the Kachin News Group (KNG) that Chinese authorities came to this conclusion in early 2019, and locals wanted to correct their position on record.
"We have always tried to oppose the Myitsone dam project. Everybody knows that we oppose it. Our government also knows this, but our government hasn't commented on it," she said.
In the January 24 statement, signatories demanded that the Chinese corporation backing the Myitsone dam pay compensation to locals who have already been forced to relocate to accommodate the hydro-power initiative, which was temporarily called off under Burma's previous Thein Sein-led government.
Chinese ambassador H.E. Hong Liang met Kachin leaders and locals in the Kachin State capital of Myitkyina in December of last year. The Chinese embassy in Yangon then released a statement describing the meeting on January 13.
The embassy's statement said, "the Kachin ethnic people in Kachin State do not oppose the Myitsone hydropower dam project. The organizations and people who oppose the dam project are outsiders."
Kachin Democratic Party (KDP) chairperson Gumgrawng Awng Hkam said that the ruling National League for Democracy (NLD) government had not issued any comment in response to China's statement.
"I don't know whether this current government is going to stop the dam project. It's time to make it clear," he said.
During the election period, the KDP chairperson said that NLD representatives had promised to make documentation on the Myitsone dam public, but that this has yet to happen.
In video footage that has since been widely shared on social media, State Counsellor Daw Aung San Suu Kyi said that it was important to stand by commitments made by former administrations.
"If the current government cancels the projects which were started by the previous government, our country will become a mistrusted country," she said on a visit to Kalay, Sagaing Region, on January 22.
Kachin civil society representatives told KNG that they fear this means the project could still go ahead.
The Chinese company behind the Myitsone dam has reportedly provided locals with seven baskets of rice three times per year, in what is perceived as an attempt to persuade them to support the hydro-power project. Those involved in the campaign to stop the dam have not been provided with rice, they say.