Burma Army Chief Meets KBC, Discusses IDP Return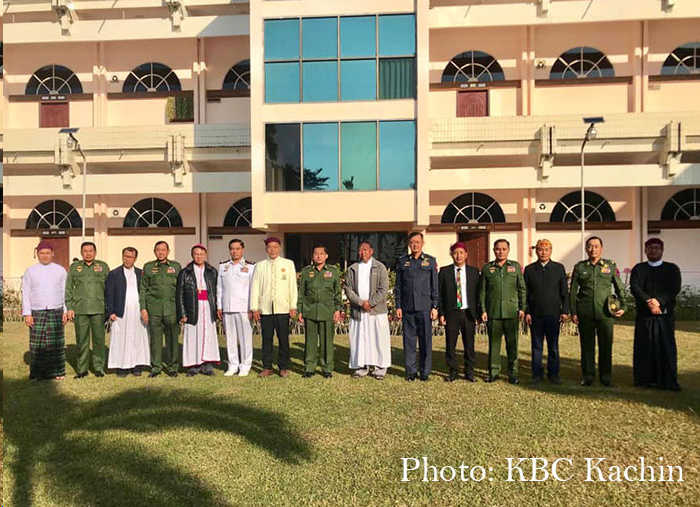 Burma Army chief Snr-Gen Min Aung Hlaing met church leaders in the Kachin State capital of Myitkyina on Tuesday to discuss issues facing the state's sizable population of internally displaced people (IDPs) as well as the controversial Myitsone dam project.
Any discussions on the return of IDPs should involve not only the Burma Army, but the Kachin Independence Army (KIA) and civil society organizations, said the Kachin Baptist Convention's (KBC) general secretary Rev. Hpauyawng Tu Mai.
There are four pilot areas proposed for IDP resettlement, established in 2013. Many IDPs became displaced when a ceasefire between the KIA and the Tatmadaw broke down in 2011.
However, according to Rev. Tu Mai, the Tatmadaw wants IDPs to return to their homes, not only to the pilot project area, and say they will clear landmines, construct houses, and provide assistance in helping them restart their lives.
"It will be better to return home if both the Tatmadaw and KIA have made a commitment to help IDPs. If the situation is not stable, IDPs will be running whenever clashes occur. For IDPs to return home, the Tatmadaw, KIA, religious groups, donor groups and IDPs must discuss it and work together," the Reverend said.
The KBC general secretary said that further talks are expected.
"Tatmadaw officials want to have regular communication with KBC and want to work together with KBC for the IDPs' return home. In the past, we didn't have direct communication between the KBC and Tatmadaw. Now they are showing they want to have regular communication with KBC regarding IDP return," Rev. Tu Mai said.
Catholic church leaders in the meeting with the Burma Army chief said that the Myitsone hydropower dam on the confluence of the Irrawaddy River should also be halted permanently. It was temporarily suspended under Burma's previous government, but its future is uncertain.
According to Rev. Tu Mai, Snr-Gen Min Aung Hlaing said that the Myitsone project "much depends on the people's desires."
Kachin civil society organizations are planning a major public protest of the Myitsone dam on Thursday in Myitkyina.
In Tuesday's meeting with church leaders, Burma Army officials brought up the fact that they want the KIA to sign the country's Nationwide Ceasefire Agreement as soon as possible.
The meeting occurred at Malikha Hall in the northern military command headquarters at around 7:00 a.m. Four pastors from the KBC and Roman Catholic churches led the meeting.