Burma Army Convoy Heads to Putao Following Peace Talks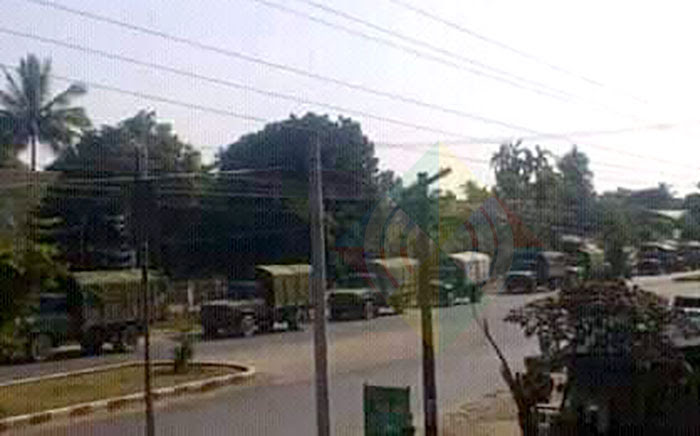 A convoy of military vehicles left the Kachin State capital of Myitkyina for the northern town of Putao on Tuesday morning, immediately following peace talks with the Northern Alliance of ethnic armed groups, of which the Kachin Independence Organization (KIO) is a member.
Witnesses told KNG that they counted nearly 100 trucks driving toward the state's northernmost township of Putao, and that despite being covered with tarps, the vehicles appeared to be fully loaded with weapons and food.
This is the second military convoy to head to Putao since January. Locals from along the Sumprabum-Putao road said that in the first convoy, which left the Northern Military Command in Myitkyina on January 28, most vehicles carried soldiers.
Tatmadaw commander-in-chief Snr-Gen Min Aung Hlaing visited Putao in early February. According to local sources, the senior-general meet ethnic Rawang People's Militia Force leader Ah Tang, also Ah Dang on the trip.
On Monday, the government peace commission, led by vice chairperson U Thein Zaw, met a KIO delegation led by Salamgaba Kumhtat Hting Nan in an informal meeting in China's Kunming, in Yunnan Province.
The Burma Army declared a unilateral four-month ceasefire in five command regions on December 21 of last year—including the Northern Command—but has since sent reinforcement troops and weaponry into these areas.