Nang Pu will be released two months early for health reasons.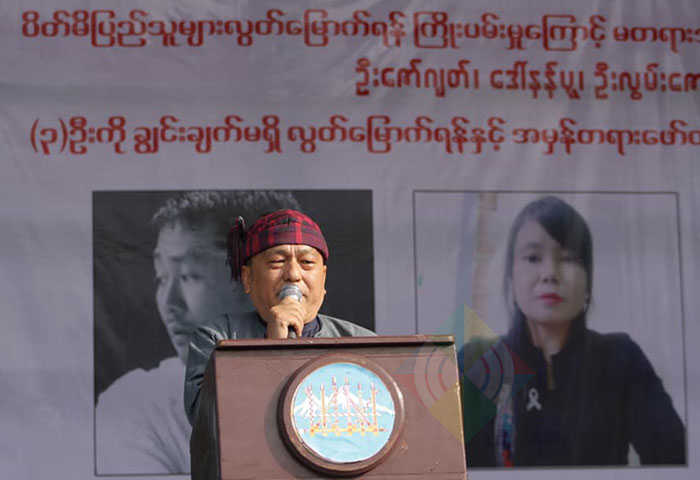 A court in Kachin State reduced the prison sentence of activist Nang Pu on Friday by two months over concerns for her health.
She was originally sentenced to six months in prison in January for her role in organizing a public campaign calling for the protection of internally displaced communities in Kachin State's conflict zone. Nang Pu has served nearly four months. Her sentence was reduced by two months in the recent decision, and she is expected to be released in April.
However, lawyer Doi Bu told KNG that the court decision did not apply to Lum Zawng and Zau Jat, two other activists sentenced alongside Nang Pu for defamation of the military in their protests, which took place from April 30-May 8 of last year.
"The state court didn't change the decision for Lum Zawng and Zau Jat, but decided to reduce the prison term by two months for Nang Pu," Doi Bu said. "It's because she is a woman, and also because her health is not good. Our lawyers reported it in the state court, so the court partially accepted our report."
Doi Bu added that it remains unknown whether they will be able to apply to the Union-level court for an appeal on the two men's behalf.
The three Kachin youth leaders played a leading role in a campaign calling for civilians to be allowed to leave an area where clashes were taking place between the Burma Army and the Kachin Independence Army in Kachin State's Hpakant Township.
Lt-Col Myo Myin Oo, from the Burma Army's Northern Military Command headquarters, filed the charges against Nang Pu, Lum Zawng and Zau Jat under the Defamation Act in a Myitkyina Township court on May 8, 2018.