"We protest through holding only papers to demonstrate our feelings. They however used weapons. I feel this is unfair. It seems anything can be done with weapons." CDM Teacher (Temporary – Mizoram State)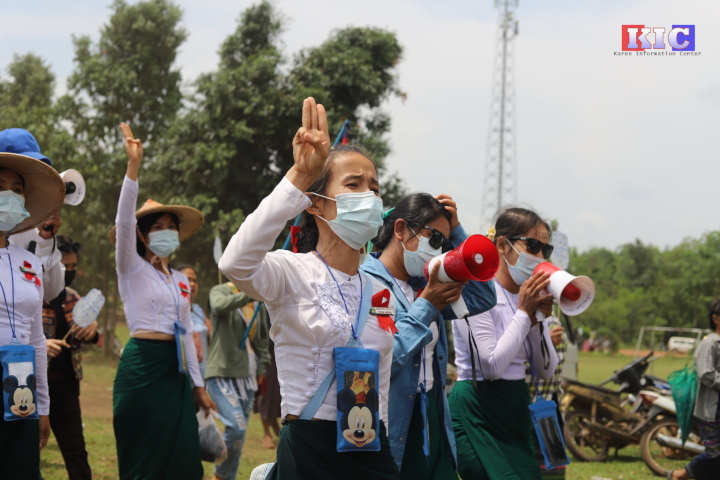 Interview with one CDM teacher evaded to Mizoram State
21 April 2021
Ma Wuttyi Soe (Unreal name) is a primary school teacher in the village of Hpa-An Township, Karen State. She also served as a poll-station chief in the general election held in 2020 November 8. Disappointed upon the outcome of 2020 election, the military seized the power on February 1. Myanmar citizens throughout the country protested on the streets after coup. Since February 9, Ma Wuttyi Soe also joined the Civil Disobedience Movement (CDM) – an anti-dictatorship movement. Since participating in such kind of movement could possibly create the danger for her life, she escaped to Aizawl, Mizoram State, India. We caught up with her for interview.
MPM : How did you join CDM as a school teacher?
Teacher: At first I didn't know. Mobile connection was cut off immediately after coup. Later the military announced that there had been election fraud. Rumor that teachers stole the votes had appeared. I was really irritated because we, the teachers, were very exhausted in the poll-station. Everybody knows how hard it is. I cannot bear the accusation of stealing vote. I cannot help myself for the entire teachers' community. This stimulated my motivation to join protests and CDM movement.
MPM: In what ways did you participate in the demonstration as a teacher?
Teacher: There is a group of teachers. From this group, we know where we meet and when we start the protest. In the very first days, we meet at 9 AM in the morning and we normally demonstrated in front of clock tower. The demonstrations went through smoothly since no arrest had occurred in those first times. We did demonstrate almost every day. Later the military junta prevented the gathering of teachers. Most of the protesters in Hpa-an are teachers. Usually, the teachers led the protest and other citizens gradually participated in the movement under the leading of teachers. Therefore, the military targeted to cause the blockage upon the gathering of teachers. When some teachers from villages came by motorbikes, they were inspected whether they brought the motorbike license. They told teachers to return their way if without license. When the situation was getting more serious, we put our school uniforms in the bag secretly and we could change the uniforms only after we reached the gathering place. We had to change them again after demonstration.
MPM: Military stated that they seized the power of the country because of the 2020 election fraud. It implies that the coup d'etat was taken place since NLD government did not give any response or take any responsibility upon the request of military regarding election fraud. You were also on duty in the poll-station. If so, is there any possibility of election fraud as the military accused?
Teacher: There is no possibility for vote fraud because the voter list was drawn through household list. If someone is 18 years old, his/her name is listed in the voter-list as the same in household list. It is impossible that the same person votes two times because election ink normally does not disappear from fingers within at least five days. That ink cannot be erased easily. Then there were different commissions at the time of voting in my village. Certain persons from all political parties were also there together. We counted the votes before them and announced the voting result at the same time. We confirmed together the number of votes that parties gained respectively. Before we sent the ballot papers to commission, we let them know in advance the voting result. Only after that, we let the policemen carried the papers. That is why there is no possibility for election fraud.
MPM: Over 700 innocent citizens killed because of the brutal attack upon the peaceful protesters, including you. Many are also detained. What is your feeling?
Teacher: We, the people, have no weapons. We protest through holding only papers to demonstrate our feelings. They however used weapons. I feel this is unfair. It seems anything can be done with weapons. I feel human rights are seriously violated a lot.
MPM: Do you have any difficulty for food and shelter in Mizoram? Do you have any certain plan for future?
Teacher: Military junta is currently calling teachers to attend their educational training. We may be warranted with Section 505if we do not attend. However I have already informed that I will not attend such training and I will keep joining in CDM. They are trying to take the attendance list for training section within 14 days. I am okay in here and I don't have any difficulty. If the peace has been restored in Myanmar, I will carry on my duty as a teacher again. But until now, I don't have any plan to go back Myanmar.
MPM: Lastly, what do you want to say upon the spring revolution as a school teacher?
Teacher: I want non-CDMs to join CDM. As soon as CDM reaches 100%, our revolution will be successful smoothly. I want all youths who are fighting in this revolution not to give up.
Sent by KMG
---