Military Troops Reinforce In Karenni State: Heading To Further Intensifying Battles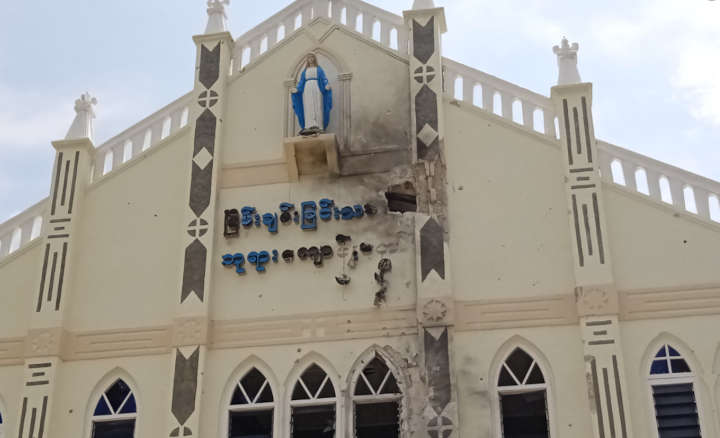 Our Lady, Queen of Peace Church was targeted attack by Myanmar Army (Photo-KNDF)
10 June 2021
Since Myanmar Army further reinforced with a lot of forces in Demoso township of Kayah State, the battles might be more intensifying, said the responsible person for Information and Communication of Karenni Nationalities Defense Force (KNDF).
He said that around 300 military forces entered the west of Demoso township through Hsibu village of Shan State from Thandaunggyi township of Kayin State.
"Battles are more intensifying. Specifically, around 300 forces are marching from Taungoo within one or two days. Military Council's offensive has already reached Doungankha."
He urged People's Defense Forces or Resistance Groups and those living in Kayah State to stay alert and do necessary preparations for safety and defense.
While Military Council has constantly increased its offensive operations the day after day, the KNDF has been defending through retreatment due to the imbalance of armed forces.
The KNDF responsible person for Information and Communication said, "the biggest challenge we are facing with is the lack of weapons. It is the biggest problem for us. We have enough people. But since there is no sufficient weapons or armaments, this point makes us weak. The traditional rifle which we are using now nevertheless cannot compete against the attack with launchers or revolvers. Therefore, we are retreating as it should be."
It was heard that the IDPs had been facing the shortage of food, drinking water, shelter and medical supply since Military Council was still blocking the freight lines in Kayah State.
United Nations issued on June 8 that there had been over 100,000 locals fleeing to safe places because of the daily fighting between military troops and local People's Defense Forces in Kayah State.
UN Special Rapporteur on Myanmar Tom Andrews called for International Community to put further pressures on Military Council and then stated that thousands of civilians could be killed if no immediate action is taken.
Sent by
MNA
---