Karen Armed Groups Plan To Hold Talks On Fighting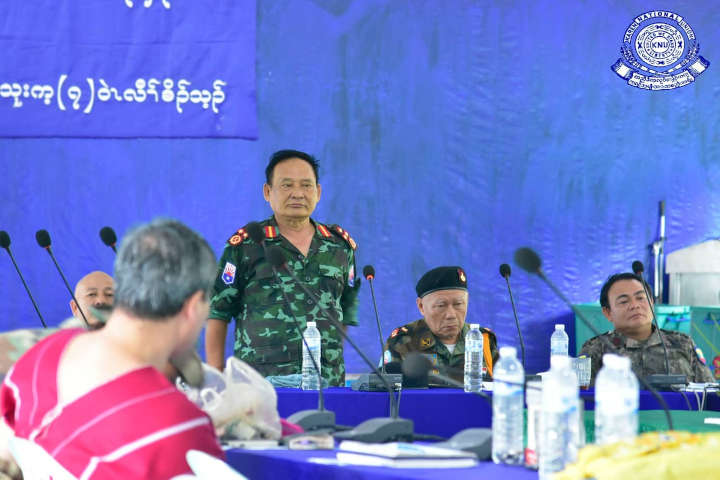 Photo – At the meeting in 2013
June 10 2021
It is reported that Karen armed groups' leaders will hold meeting on June 15 in a place of KNLA-controlled area to discuss on fighting between Karen armed groups themselves.
The meeting-invitation letter states that the meeting with the military leaders from Karen National Liberation Army (KNLA), Karen Border Guard Forces (BDF), Democratic Karen Buddhist Army (DKBA) and KNU/KNLA-PC will be chaired by the Unity Committee for Karen Armed Group (UCKAG)
"Since the conflicts between Karen armed group and KNLA caused certain casualties, the situation will be getting worse if there is no discussion. This is not good for our Karen people. Therefore, it is urgently necessary to discuss how to handle the clashes with BGF in 5th Brigade, 1st Brigade, 3rd Brigade and 6th Brigade," Padoh Saw Aung Maw Aye, the Secretary of the Unity Committee said to KIC.
KNLA led the meeting and invited the leaders of the other Karen armed groups, including General Saw Htaw Lay from KNU/KNLA-PC, Colonel Saw Chit Thu from Border Guard Forces (BGF) and General Saw Moses from DKBA, the representatives who can make decision on behalf of their groups and their advisory teams.
There have been hundreds of fighting between military troops and the KNLA members within the controlled-areas of KNU 5th Brigade, 1st Brigade and 3rd Brigade since after February coup. And KNLA had certain confrontations with Karen BGF members who joined and reinforced Military Council.
Likewise, during the first days of June, the intensifying battles broke out in KNU 6th Brigade controlled area between the joint force of Military Council and BGF, and the cooperative forces, including DKBA Splinter Group and a lot of BGF members were killed during the battles.
Aiming to avoid confrontations between Karen armed groups and to solve the drug issue, Karen Armed Group Unity Committee was formed on May 28 2013 with 17 members from six Karen armed groups.
Sent by KIC
---