Bomb Explosion After Demonstration against SSPP/SSA in Namhkam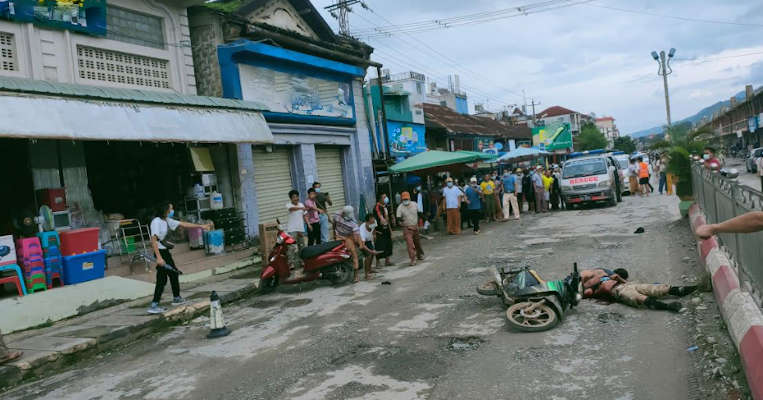 29 June 2021
Locals said that the bombs exploded in Namhkam, the northern Shan State, and it caused two people died and others injured.
It was known that the locals demonstrated against Shan State Progressive Party (SSPP/SSA) around 1 pm on June 28 and after the demonstration, the bomb exploded about 2 pm.
"Bomb exploded around 2 pm. Such bomb hit two women on a motorcycle and another two men. One out of four died on the spot and another man died slowly. The condition of a woman is unstable and other women got injured in her hand. A pistol was seen on the place where two men were lying down," said one of the eyewitnesses.
Such bomb exploded in front of the downtown pagoda near the market on Pyidaungsu Highway.
Namhkam locals said that the two dead men were in the same group with those who bombed to demonstration.
"According to the people nearby, two motorcycles approached and those on one motorcycle bombed to demonstration. The two dead men were also the members of those who bombed. The front cycle bombed and that bomb then hit the latter cycle," said the unknown local.
However, both injured women are just the civilians and now they have been treating in Namhkam General Hospital. One woman is in a serious condition, according to such local.
"They bombed to the demonstrators but the bombs did not reach to their targeted place. They threw the bombs from their motorcycle. The injured women are lying down a little bit far from the place where two dead men exist. All of them are in front of the demonstrators. These women have nothing to do with the bombers. Such women are just the civilians and now they have been brought to hospital."
Today Shan youths from Namhkam led the protest and over 200 Shan locals demonstrated against SSPP/SSA and called for an immediate release of Shan men whom SSPP/SSA had arrested.
"Today Shan youths were protesting against SSPP. SSPP arrested a man from Mansum the day before. The villagers and the public asked to release him or give the corpse if killed. Today's protest has started because of that issue. When the demonstrators had finished marching around city, they had been attacked with four bombs," said the unknown Namhkam locals.
Four people on two motorcycles bombed to the demonstration but such bombs hit their own men and caused to death.
Under the leading of Shan youths in Namhkam, the northern Shan State, around 200 Shan locals demonstrated against SSPP/SSA since SSPP arrested a villager from Mansum village, Namhkam, and the bombs exploded during such demonstration.
Sent by
NMG
---