Nearly 80,000 populations in Karenni State to get vaccinated against COVID-19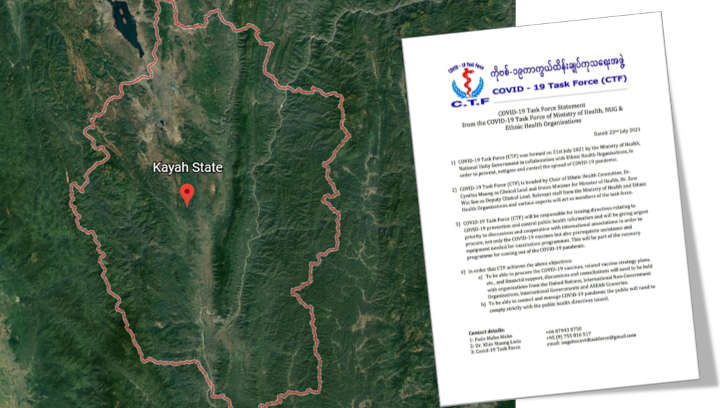 July 29th, 2021
Plan is under way to vaccinate nearly 80,000 people in Karenni State and border area, said Khun Philip, Director of the Karenni Civil Health and Development Network (CHDN) and a member of the COVID-19 Task Force (CTF).
The vaccination will not cover the urban areas. According to the list collected in 2020, there are more than 160,000 populations in the EAO-controlled areas in Karenni State, Pekon in Southern Shan State, Thandaunggyi in Karen State and the border area near Salween River. Among them, nearly 80,000 people aged above 18 can get vaccinated.
U Aung San Myint, a management team leader of the Karenni Covid-19 Pandemic Prevention Committee (KnCPPC) said: "Currently, we are compiling the list of people including CDM staff, IDPs in Karenni State".
Coordination is being made with the National Unity Government (NUG). Both the CHDN and the Karenni Health Department will make efforts to get vaccines, necessary assistance, medicines and technology, Khun Philip added.
The NUG said it would make constant efforts for the public's access to the vaccination and inform the public about the real-time news.
"Plans are underway to vaccinate 20 percent of the total populations in Myanmar, mainly in ethnic areas. The third party will vaccinate the public, Khun Philip added.
"We first need to designate the priority list. Health workers, social workers and the older persons with comorbidities like hypertension and diabetes will be included in the priority list. Most countries are doing so. On the real ground, we need to make coordination with the CSOs and the EAOs in the region. There will be no complexity if we do it by the consent of the majority. We will continue doing the vaccination program after the negotiation on the priority list."
For the prevention, control and treatment of COVID-19, the CTF was formed by the NUG on July 27th, 2021. The CTF is led by Chair of the Ethnic Health Committee Dr. Cynthia Maung while the NUG's Health Minister Dr. Zaw Wai Soe will serve as a deputy head and officials of the Health Ministry and Ethnic Health Organizations and experts, as members.
Written by Maw Oo Myar (Kantarawaddy Times)
---