Construction of Buddha statues on Inkhaingbwan Mountain in Myitkyina may lead to conflict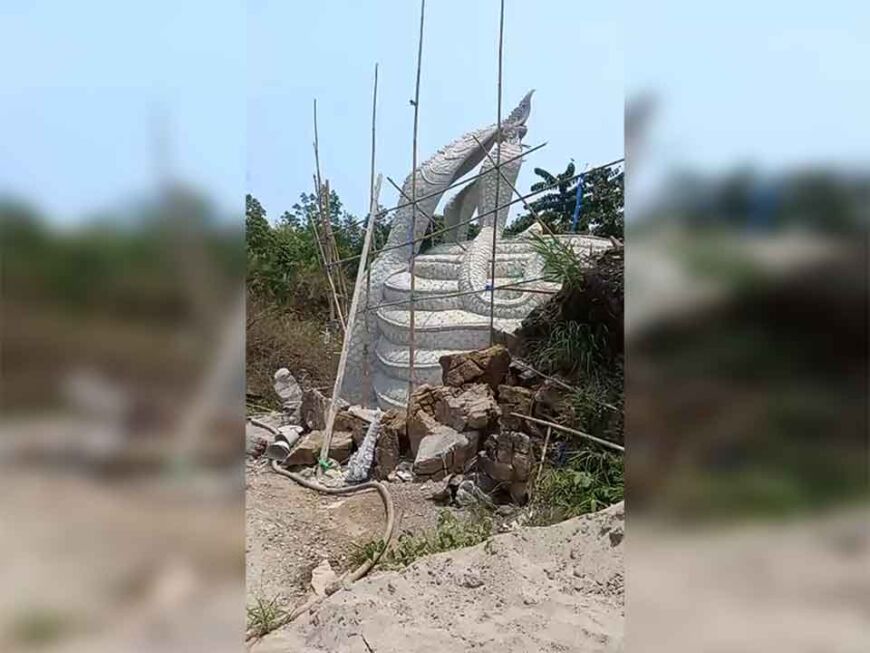 May 11th, 2022
Kachin Civil Society Organizations (CSOs) said they would continue to object to the construction of Buddha statues on Inkhaingbwan mountain in Myitkyina of Kachin State as it may lead to religious and racial conflicts.
The CSOs again object to the construction of Buddha images on Inkhaingbwan mountain in PaLaNa area in Myitkyina amid objections.
U Zoke Daw Saw Naw, the relation officer of Kachin Culture and Literacy Federation said:
"It has nothing to do with religion. It amounts to insulting all Kachin people on purpose in the monument which is related to the national affairs of Kachin. We object to it."
In the tenure of the NLD-led government in January, 2020, the Kachin CSOs also objected to the construction of the Buddha statue on the mountain.
Both sides made verbal promises to stop the construction of the Buddha statue as it may lead to racial conflict in Kachin State. However, the construction has resumed after the coup, youths and locals said.
"Last year, we told them to avoid the racial conflict. The abbot from Mizzima monastery himself made a verbal promise to stop it. He doesn't keep his promise as the construction of the Dragon Buddha statue continues within one year," he added.
The mountain is one of the most prominent places for Kachin people. The construction of Buddha images may go against the desires of indiegnous people.
Jacob, Kachin Human Rights Watch said: "The government designated our country as a Buddhist country. They build the pagodas and designate it as a historic area in the places where there are no people who take faith in Buddhism. Inkhaingbwan is related to nature. It is not related to religion. They may be related to racial and political affairs. There may be conflict among the people and organizations as they try to do it in the historic place. It may hamper our efforts to get local peace and federalism."
Kachin Culture and Literacy Associations said the mountain is a historic cultural heritage of the Kachin people. The mountain is not related to religious affairs.
Although most Kachin Christians are living near the mountain, there are no Christan monuments.
"We will meet the Ministry of Religious Affairs and relevant departments if they continue doing it" he added.
The Inkhaingbwan Mountain is the historic and geographical cultural heritage of the Kachin race. In 2017, it was designated as the National Park under the Conservation of Biodiversity and Protected Area Law.
On May 2nd, nine Kachin CSOs issued an objection letter as the construction of pagodas and Buddha images on Inkhaingbwan National Park may lead to racial and religious conflicts.
Sent by the KNG
---