Military burns down a makeshift refugee camp in Tanintharyi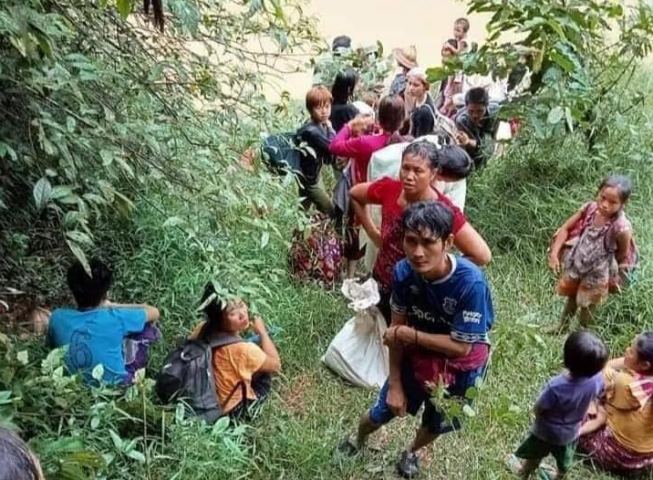 May 23th, 2022
A military column of around 100 soldiers is conducting an offensive in Tharabwin village in Tanintharyi of Myeik District and burned down a temporary refugee camp in the east of Tharabwin.
A 50-year-old man from Tharabwin village said: "The military is carrying out constant firing of heavy weapons. The villagers have to flee in the rain. We have no safety and food. We face difficulties."
There was intense fighting between the military council and local PDFs in the east of Tharabwain village in Tanintharyi Township, killing three soldiers and wounding two others. The military burned the houses after it suffered the casualties, the unbiased guerrilla force.
At around 9 am on May 20th, fighting erupted. At around 3.30 pm, there was an exchange of shooting.
On the early morning of May 21st, the internet access was cut off in Taku and Theinnaw villages.
The military is carrying out the deployment of troops, according to locals.
The military council troops arrested and killed a leader of local PDF in the fighting in Thayabwin village, according to the statement by the Southern Warriors Defense Force (SWDF).
The military fired nearly 100 rounds of heavy weapons in the fighting. Heavy shelling destroyed more than 10 houses. Thousands of locals from nearby villages have fled to safer places.
Currently, the military council troops are stationed in Taku village. They are destroying and burning the houses. They also threaten to kill the villagers, according to locals.
On May 20th, a 10-year-old child who suffers mental health and a villager were shot dead by the military council. The military has detained some villagers, according to the villagers.
The NMG continues to investigate the situation in order to confirm the exact number of detainees.
Some villagers fled to Tanintharyi and Myeik while some villagers are taking shelter at the monasteries, relatives' houses and in the forests, according to the volunteers.
Due to the rains, the IDPs are in need of waterproof sheets, clothes, medicine and basic food rations, according to the villagers and volunteers.
Sent by the NMG.
---