IDPs in Karen State in need of aid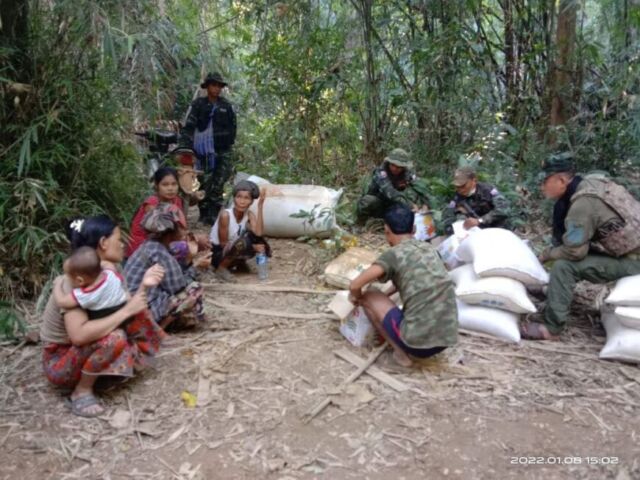 May 23th, 2022
The total number of the refugees displaced by armed conflicts in Karen State since the coup has exceeded 170,000. Currently they are in need of help, according to the Karen Civil Society Organizations.
Saw Nanda Sue, Spokesperson of the Karen Human Rights Group (KHRG) said: "The total number of the refugees in Karen State has reached over 170,000 since the coup. Now the number of the IDPs continues to increase. It is very difficult for us to get the exact number of the refugees. The IDPs return to their home when there are no clashes in most places. They again flee to safer places when the fighting resumes. So, we can't collect the exact number of IDPs."
Brigade-5 (Mutraw District) sees the highest number of the IDPs. Brigade-6 (Dupalaryar District) sees the second highest number and Brigade-1 Duthahtoo District) the third highest number.
There are many IDPs in Brigade-3, 2 and 4.
The IDPs from all brigades are facing difficulties. Because they don't fully get humanitarian aid in time. The IDPs are facing accommodation difficulties. They have no access to health and education. Among the IDPs are children, pregnant women, the elderly and infants. They are facing various difficulties, the KHRG says.
Naw Say Say Heh, Joint Secretary-2 of the Karen Women Organization (KWO) said: "The IDPs face severe floods. Due to heavy rains and flooding, the IDPs have to flee to other places. They have to move without sufficient waterproof sheets. They also need food rations. The most important thing is the availability of food. The second is they are in need of waterproof sheets. The third is medicine. These are the most important things."
Relevant aid organizations are required to do more as the continued fighting may make the IDPs difficult in the long-run, the KWO says.
In addition, the Karen CSOs called on Thailand authorities to allow international aid organizations for cross-border humanitarian assistance.
Sent by the NMG.
---