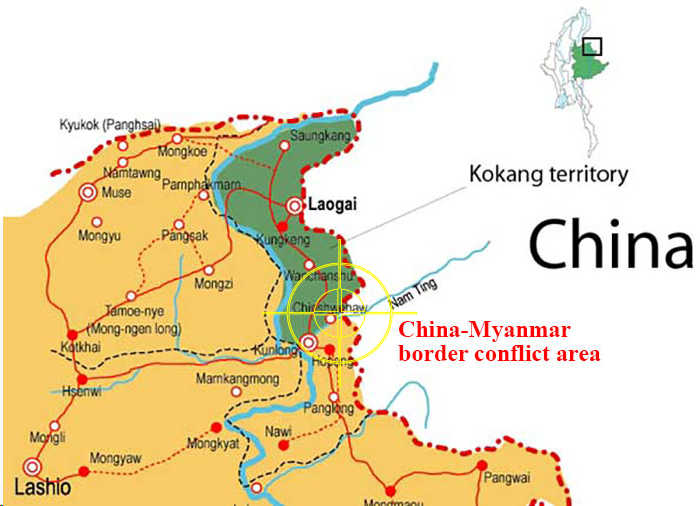 Troops from the two forces almost exchanged gunfire, locals say.
Tension increased at the border between China and Burma on Monday after the troops from the two countries' militaries tried to remove demarcation posts in Shan State's ethnic Kokang region.
According to locals, the two forces were close to opening fire on one another, until the Chinese forces withdrew from the area under dispute.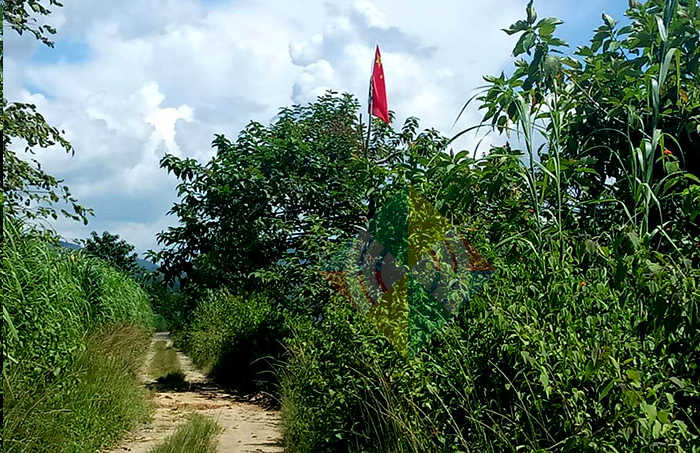 "Burmese forces removed Chinese flags and border posts which were recently built by Chinese forces. Then the Burmese forces set up steel border posts with Burmese flags," a local told KNG under the condition of anonymity. "Then the Chinese forces came back to remove these steel border posts, but it was not easy to remove them. They came back again with heavy machines, and at that time the Burmese forces arrived with heavy weapons. Then Chinese forces withdrew from the area," the individual explained.
image.png
Local people in Shan State's Mong Ko told KNG that Chinese authorities had previously come to build border posts within Burmese territory, 100 meters from the actual border line.
Since 2018, Chinese forces have been more commonly deployed along the country's border with Burma, and multiple instances have been documented where they have attempted to set up new border posts.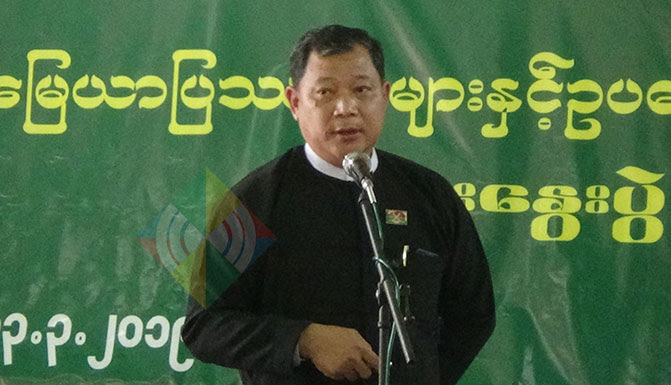 Ethnic people are likely to lose their farmland,' says one Waingmaw Township lawyer.
Representatives of Kachin political parties held a discussion on land issues in Burma on Wednesday in Myitkyina, highlighting multiple sections of the Vacant, Fallow and Virgin (VFV) land management law that they would like to see changed.
The meeting was held at the YMCA hall in the Kachin State capital on March 13, the day after the deadline for land to be registered in accordance with the VFV law. The statute has been widely criticized for failing to recognize customary land ownership, and deeming large tracts of community land "vacant," particularly in ethnic states.
Dr. Kawn La, chairperson of the Kachin National Congress, identified six areas of the VFV law that would need to be changed for it to be considered fair. These included sections on international and domestic investment and farmland. He urged civil society organizations and locals to cooperate to push for these changes to the land law.
The VFV land management law was amended on September 11, 2018, giving six months to people to register their land in accordance with the statute. Failing to do so and working on unregistered land could lead to two-year prison sentences, fines of 500,000 kyat (US$330) and/or land seizure. This registration period concluded on Monday.
Lawyer Gannes, who lives in Waingmaw Township, told KNG that government representatives had not explained the VFV law sufficiently to the public, and that it fails to take into account the problems faced by communities in the ethnic states.
"In my opinion, farmland will disappear under this new land management law. At the same time, businessmen's buildings will appear," he said. "Ethnic people own their land by inheriting them from their ancestors. They don't know how to apply to own their lands with this new land law. They don't know they must have a tax bill for their farmland."
Of concern is that foreign investment is increasing in Kachin State, Gannes said, which could contribute to further conflict between farmers and investment companies.
"Ethnic people are likely to lose their farmland," he said.
Of those who stand to be dispossessed are landowners among the 100,000 internally displaced people in Kachin State, who have sought refuge in camps due to ongoing armed conflict between the Burma Army and the Kachin Independence Army.
ဗိုလ်မှူးကြီးကောင်းရွတ်သည် မွန်ပြည်သစ်ပါတီတွင် ၃၅ နှစ်ကြာတာဝန်ထမ်းဆောင်ခဲ့ပြီး အငြိမ်းစားအနားယူခဲ့သူ ဖြစ်သည်။ နဝတစစ်အစိုးရနှင့် မွန်ပြည်သစ်ပါတီ ၁၉၉၅ ခုနှစ် အပစ်ရပ်ဆွေးနွေးပွဲများတွင် စစ်ဘက်ရေးရာကိစ္စရပ်များကို အဓိကဦးဆောင်ဆွေးနွေးခဲ့သူတစ်ဦးဖြစ်ခဲ့သည့်အတွက် လက်ရှိ NCA လက်မှတ်ရေးထိုးခဲ့သော မွန်ပြည်သစ်ပါတီအပေါ် ၎င်း၏အမြင်သုံးသပ်ချက်များအား မွန်သတင်းအေဂျင်စီ အယ်ဒီတာ ဗညားအောင် မွန်ဘာသာဖြင့် တွေ့ဆုံမေးမြန်းချက်ကို မြန်မာပြန်ဆိုခဲ့ခြင်း ဖြစ်သည်။
Read more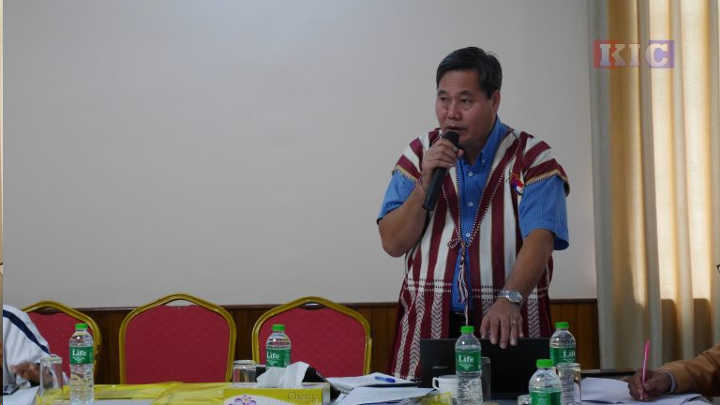 လက်ရှိ ငြိမ်းချမ်းရေးဖြစ်စဉ်ကို ရှေ့ဆက်နိုင်ရန် နိုင်ငံရေးဆန္ဒ အဓိက လိုအပ်ကြောင်း KNU- ကရင်အမျိုးသားအစည်းအရုံး၏ တွဲဖက် အထွေထွေအတွင်းရေးမှူး(၂) ပဒိုစောလှထွန်းက ဖားအံမြို့တွင် ယနေ့ ပြုလုပ်သည့် "ငြိမ်းချမ်းရေးစကားလက်ဆုံ"ပွဲ၌ ငြိမ်းချမ်းရေး ရှေ့ဆက်သွားမည့် အခြေအနေနှင့် ပတ်သက်ပြီး ပြောဆိုခဲ့သည်။
Read more