Nippon Foundation
Website: http://www.nippon-foundation.or.jp/en/

Background

The Japanese government has been supporting the ethnic peace process through development assistance focusing on improvement of people's livelihoods.

In June of 2012, the Japanese government appointed Sasakawa Yōhei, the chairman of the Nippon Foundation as the Ambassador for the welfare of ethnic minorities in Myanmar to coordinate its assistance for the ethnic peace process. The Japanese foundation has been working closely with the UNFC on their plans for the peace process. They were also requested by the UNFC to act as a foreign mediator during negotiations with the government.

Representative

Humanitarian Assistance

Nippon Foundation donated $3M emergency aid and to support education and health care development in rebel-controlled areas, beginning with an initial aid package of $300,000 and the monitoring of its distribution. U Aung Min said that the Japanese government eventually plans to provide another $300M in support for refugee relief programs, $60M of which will come directly from the Nippon Foundation. The aid package was officially launched on Dec. 22, 2012 in Mon state.

December 22, 2012: NMSP
$70,000 worth of emergency supplies. included 50 tonnes of rice, medical supplies for hospitals and 500 boxes of traditional medicine.
January 12, 2013: PNLO
Donated 1200 bags of rice
February 12, 2013: KNU
US$30,000 of emergency supplies to displaced people in Kayin State. 70 tonnes of rice​

Articles:

Clarification on Media Reports About the Nippon Foundation's Humanitarian Aid to Myanmar 2013.02.21

Nippon Foundation Conference Raises Hopes for Peace in Myanmar 2012.10.19

Interviews:

'Trust-building Is Vitally Important' Irrawaddy – Tuesday, March 26, 2013
UNFC Cooperation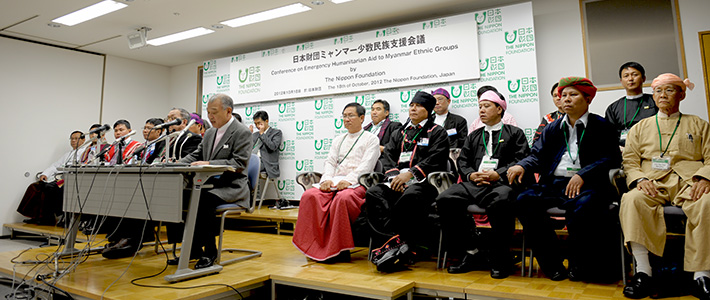 Meetings:
Peace Mediation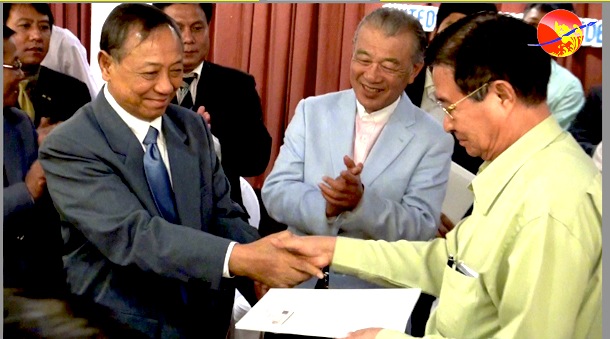 20/02/2013: UNFC-Govt meeting; Chiang Mai, Thailand​
07/12/2012: CNF-Govt Meeting Myanmar Peace Centre, Yangon
Timeline of events
April 24, 2012: Three UNFC Central Committee members met with the Japanese Nippon Foundation and some government officials in Tokyo to discuss the ongoing conflict and peace talks with the Myanmar government.
​June 2012: Sasakawa Yōhei was appointed as the Japanese government's goodwill ambassador for the welfare of ethnic minorities in Myanmar. During a trip to Myanmar the same month, Yōhei met with President Thein Sein and National League for Democracy (NLD) opposition leader Daw Aung San Suu Kyi.
Sept. 23, 2012: The Nippon Foundation signed a memorandum of understanding (MOU) with the UNFC for the relief plan.
Oct. 6, 2012: The Nippon Foundation signed a MOU with the Myanmar government allowing them to carry out humanitarian aid relief in the ethnic areas.
Mid-October, 2012: A twenty member UNFC delegation, with representatives from 10 ethnic minority groups, worked out the details of the relief plan with the Nippon Foundation during the Conference on Emergency Humanitarian Aid to Myanmar Ethnic Groups in Tokyo. This was followed by a press conference at the Nippon Foundation's head office where they presented an outline of the plan on Oct.18.
Dec. 22, 2012: The project was launched during an official ceremony in Mon state capital Mawlamyine, during which representatives from the foundation gave emergency supplies worth $70,000 to the New Mon State Party (NMSP). The supplies included 50 tons of rice, medical supplies for hospitals and 500 boxes of traditional herbal medicine.
Jan. 12, 2013: Nippon Foundation donated 1,200 bags of rice to Pa-O National Liberation Organization (PNLO) peace group at Taunggyi Hotel in Taunggyi, Shan state.​​
Projects Implemented by the Nippon Foundation Group in Myanmar (as of January 2013)
| | | |
| --- | --- | --- |
| Year | No. of projects | Budget (US$) |
| 1976–2011 | 37 | 19,812,870 |
| 2012– | 25 | 28,865,300 |
Breakdown of Projects from FY2012 (April 1, 2012 to March 31, 2013)
| | | |
| --- | --- | --- |
| Purpose | Budget (US$) | Launched |
| Health | | |
| 1 Provide emergency food and medical support to internally displaced people | 3,000,000 | December 2012 |
| 2 Implement medical services for residents of remote areas (mobile clinic) | 5,000,000 | September 2012 |
| 3 Distribute prosthetic limbs for residents of isolated areas | 2,500,000 | January 2013 |
| 4 Establish a prosthetist/ orthotists training center | 6,000,000 | January 2013 |
| 5 Distribute traditional medicine boxes | 700,000 | Ongoing |
| 6 Support a medical clinic on the Thailand-Myanmar border | 95,000 | Ongoing |
| 7 Support fundraising activities of the medical clinic on the Thailand-Myanmar border | 20,000 | November 2012 |
| 8 Offer training on cultivation of medicinal plants | 500,000 | January 2013 |
| 9 Donate used welfare vehicles | 1,000,000 | Vehicles arrived in Yangon in September 2012 |
| Support for the disabled | | |
| 10 Offer leadership training and establish self-help groups for the disabled | 73,300 | Ongoing |
| 11 Prepare for the holding of an international arts festival for the disabled | 30,000 | Ongoing |
| 12 Assist the Institute on Disability and Public Policy | 100,000 | 2013 |
| 13 Establish an international network to provide secondary education for the disabled in the ASEAN region | Planning | 2013 |
| 14 Support tertiary education for the visually impaired | 100,000 | 2013 |
| 15 Build an educational center for children with disabilities | 1,800,000 | 2013 |
| Education | | |
| 16 Assist school construction to provide regional development and agricultural instruction (Shan state) | 700,000 | Ongoing |
| 17 Construct schools and put in place facilities for health and sanitation education (Rakhine state) | 5,000,000 | Ongoing |
| 18 Regional development through school construction and (Ayeyarwady state) | Planning | 2013 |
| 19 Hold an international workshop to educate female leaders | 25,000 | Preparation stage |
| Training for public officials | | |
| 20 Train public officials | 156,000 | Ongoing |
| 21 Invite Myanmar members of Parliament to visit Japan to study its political system | 116,000 | Ongoing |
| 22 Support the chairing of the ASEAN Summit | 250,000 | Ongoing |
| 23 Offer training of state government officials | 1,500,000 | 2013 |
| Other | | |
| 24 Dispatch skilled volunteers | Planning | Preparation stage |
| 25 5th ASEAN Traditional Medicine Conference | 200,000 | September 2013 |
Total Amount of Rice and Medicine Delivered (As of October 31, 2013)
| | | | |
| --- | --- | --- | --- |
| Items | (A) Budget | (B) Amount delivered | (B)/(A)% |
| Rice (US$) | 2,676,037 | 1,245,302 | 47% |
| Medicine for clinics (US$) | 633,829 | 134,423 | 21% |
| Total (US$) | 3,309,866 | 1,379,725 | 42% |
Amount of Rice and Medicine to Be Delivered to Each Area (as of October 31, 2013)
| | | | | | | |
| --- | --- | --- | --- | --- | --- | --- |
| State/Region | No. | NSAGs area | Rice | | Medicine | |
| | | | Budget (kg) | Amount delivered to date (kg) | budget (units) | Amount delivered (units) |
| Shan State | 1 | SSPP/SSA | 478,625 | 100,000 | 0 | 0 |
| | 2 | RCSS/SSA | 300,000 | 303,120 | 14 | 3 |
| | 3 | PNLO | 98,915 | 69,990 | 19 | 3 |
| | 4 | LDU | 47,089 | 8,190 | 46 | 9 |
| | 5 | PSLF/TNLA | 336,352 | 0 | 2 | 0 |
| | 6 | WNO | 109,873 | 19,125 | 20 | 4 |
| Kayah State | 7 | KNPP | 344,656 | 300,000 | 121 | 25 |
| Kayin State | 8 | KNU | 1,106,185 | 936,920 | 150 | 24 |
| Mon State | | | | | | |
| Tanintharyi Region | | | | | | |
| | 9 | DKBA | 120,000 | 120,000 | 0 | 0 |
| | 10 | KNLA PC | 120,000 | 120,000 | 0 | 0 |
| | 11 | NMSP | 338,915 | 252,810 | 33 | 17 |
| | 12 | KPDF (KNDF) | 15,000 | 15,000 | 0 | 0 |
| Bago Region | 13 | KNLA Kon-phe | 30,000 | 30,000 | 0 | 0 |
| Rakhine State | 14 | ALP | 103,898 | 27,000 | 18 | 3 |
| | 15 | ANC | 239,407 | 75,225 | 0 | 0 |
| Chin State | 16 | CNF | 209,312 | 120,000 | 0 | 0 |
| Sagaing Region | 17 | NSCN-K | 60,000 | 60,000 | 0 | 0 |
| Kachin State | 18 | KIO | 2,116,109 | 0 | 0 | 0 |
| Total | | | 6,174,337 | 2,557,380 | 423 | 88 |
---